Are you looking for a unique vintage bicycle that is completely custom made? Then Velo d'Anvers is the place to be! At this Theon Valks bicycle shop, located in the Machinekamer at Strijp-S, you will not find standard bicycles, but unique products. Theon makes vintage bicycles fully customized to your wishes, so that you can hit the road like new again.
Velo d'Anvers originated from a hobby of Theon that got out of hand. He has been tinkering with bicycles all his life. Although originally an architect, he eventually turned his hobby into his profession. Theon likes things that are custom made and has an urge to make things more beautiful and better. He started refurbishing vintage road bikes from home when he was still living in Antwerp. As an ode to his former hometown, the reference to Antwerp has been incorporated into the name of the shop. Velo d'Anvers started in 2014 and in 2015 Theon opened his first store in the Urban Shopper at Strijp-S. Velo d'Anvers is now located in the old Philips engine room at Strijp-S.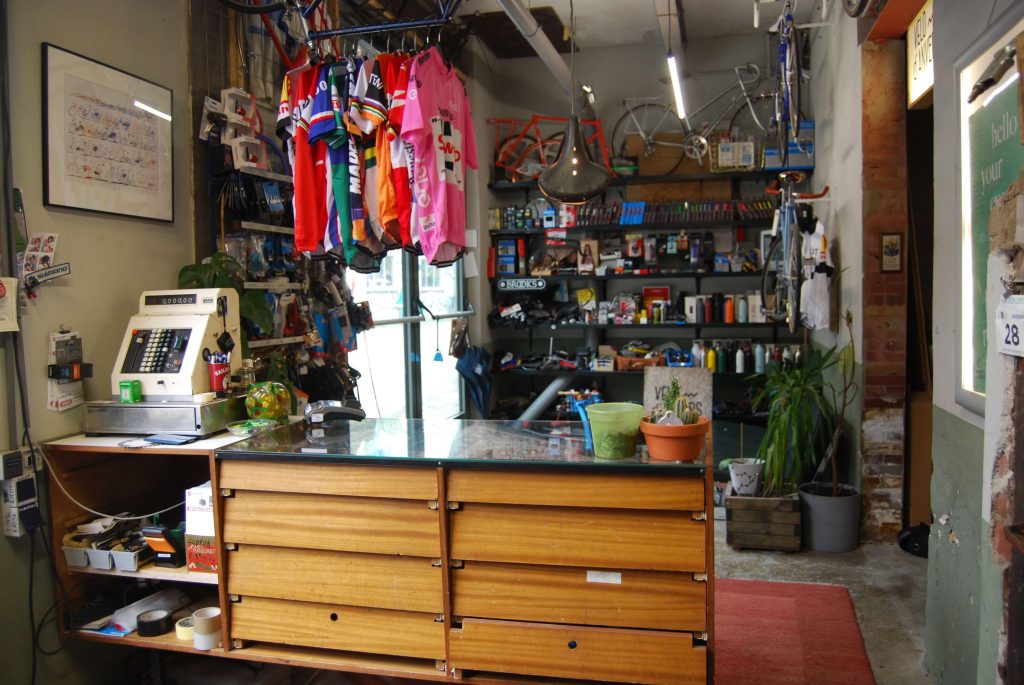 At Velo d'Anvers everything is tackled sustainably. All parts that can be reused are reused. A vintage bicycle is purchased and then completely dismantled. The bare frame is hung up and when the time comes, the bike is completely rebuilt. The old beast can then hit the road like new again. There is now a lot of history on the wall in the Velo d'Anvers shop. It really does look like a museum.
The Velo d'Anvers store is an experience in itself. There is a workshop where a lot of tinkering is done, but there is also a nice place to discuss with a cup of coffee what your bike should look like. At Velo d'Anvers you will find frames in all shapes and sizes, bins full of parts and essential accessories. It is a large store where your eyes are short, specialized in racing bikes, randonneurs and much more.
Are you looking for a beautiful vintage bicycle or do you want to have your bicycle restored and pimped up in a cool color? Then Velo d'Anvers is the right place for you. All steeds are welcome, whether steel, tricycle, carbon, heavily neglected or cleaned every weekend. You will of course get your bike back with inflated tires, tight brakes and without mud. That's all business service.
In short, at Velo d'Anvers you will not only find one unique vintage bicycle, but also an experience in itself. Feel free to drop by and be inspired by the history and craftsmanship of this special bicycle shop.
Theon Valks will be present at Tour de Retro on Sunday 25 June in the morning to give advice and help participants with minor problems with your vintage racing bike.
Velo d'Anvers
Boiler house square 6
5617AE Eindhoven
0683007327
velodanvers.nl