The Bert Oosterbosch museum is a wonderful tribute and lasting reminder of the ruddy cycling hero from Eindhoven who was known for his time trial skills. The museum was founded by cousin Geert Oosterbosch and former cycling tour speaker Jan Peeters, with the help of Frans Oosterbosch – Bert's father.
On the top floor of cycling café De Cyklist in Eindhoven you will find the Bert Oosterbosch cycling museum, completely furnished with items from Bert. The cycling jerseys he won, the bikes he rode (including the 1983 Raleigh), photos, awards, newspaper articles and even his fishing card. Bert Oosterbosch was one of the most talented cyclists of his generation, who sadly passed away at the age of 32 to cardiac arrest.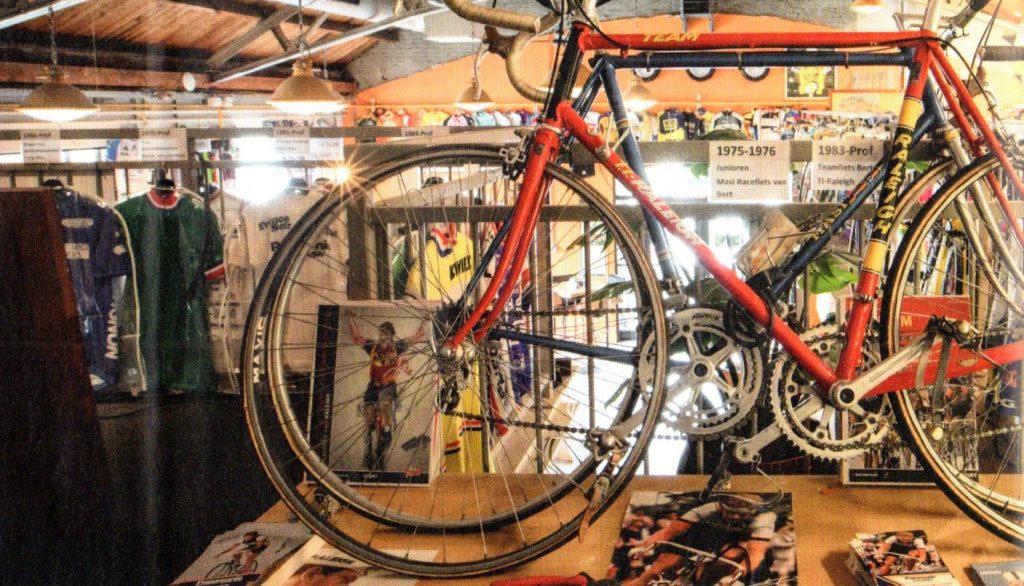 He was successful both on the track and on the road. In 1979 he became a professional rider with Peter Post's TI-Raleigh team. That year he became World Pursuit Champion in Amsterdam. In the final he surprisingly defeated the great Francesco Moser. He was also Dutch champion three times in this part. The 'Rooie' also won many prologues, which automatically put him in the leader's jersey of many stage races. Only in the Tour did that prologue fail. Oosterbosch suffered from health problems during his career. Twice he was struck by meningitis and in 1988 by a knee injury. As a result, he had to end his cycling career. A year later he made his comeback as an amateur. On August 13, 1989 he won a race in Bladel. He died five days later, aged thirty-two, after acute cardiac arrest.
He was buried in the Roman Catholic cemetery OL Vrouw van Lourdes on the Smetsakker in Eindhoven. A racing bicycle is depicted on his grave.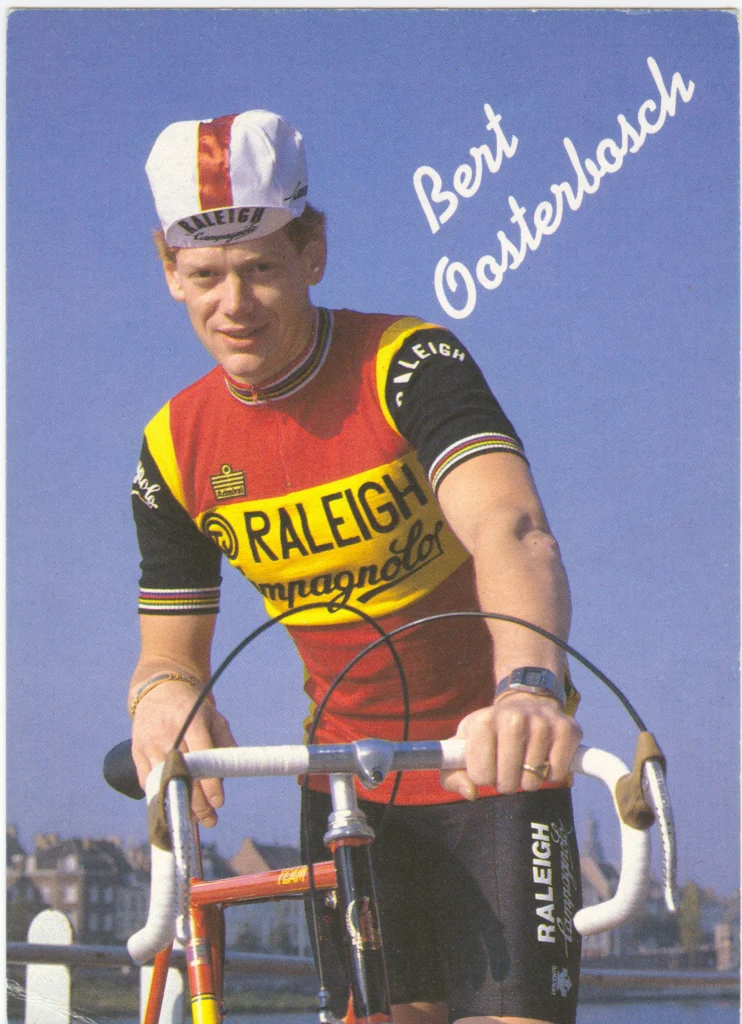 The museum is then an important source of information for cycling fans and anyone interested in the history of cycling. Geert Oosterbosch and Jan Peeters do everything they can to continue to add new pieces to the collection, even a few years after the opening of the Bert Oosterbosch Museum. The museum is a tribute to an Eindhoven cycling phenomenon and an important part of the cycling history of the Netherlands.
Teams Bert Oosterbosch:
1977 Jan Van Erp (Netherlands)
1978 Jan Van Erp (Netherlands)
1979 TI–Raleigh–Mc Gregor (Netherlands)
1980 TI-Raleigh – Creda (Netherlands)
1981 TI-Raleigh – Creda (Netherlands)
1982 DAF Trucks – TeVe-Blad (Belgium)
1983 TI-Raleigh – Campagnolo (Netherlands)
1984 Panasonic–Raleigh (Netherlands)
1985 Panasonic–Raleigh (Netherlands)
1986 Panasonic (Netherlands)
1987 Panasonic–Isostar (Netherlands)
1988 TVM – Van Schilt (Netherlands)
Honors list Bert Oosterbosch:
1978

(amateur) Team Time Trial World Champion (with Jan van Houwelingen, Bart van Est and Guus Bierings)

1979
1980

Final classification Tour de Luxembourg
stage in Tour de France

1981

Final classification Four Days of Dunkirk

1982

Tour of the Netherlands
stage in Tour de Suisse

1983

Tour of America
Star of Bessèges
two stages in Tour de France

1984

E3 Prize Flanders
Final classification Three Days of De Panne-Koksijde
stage in Tour de Suisse

1985