Although cycling cafe De Cyklist – Gas factory 3 in Eindhoven – in the center of Eindhoven, there are more than enough (free) parking spaces nearby. Here we list.
Free parking
Free parking is available at the green streets in the map below.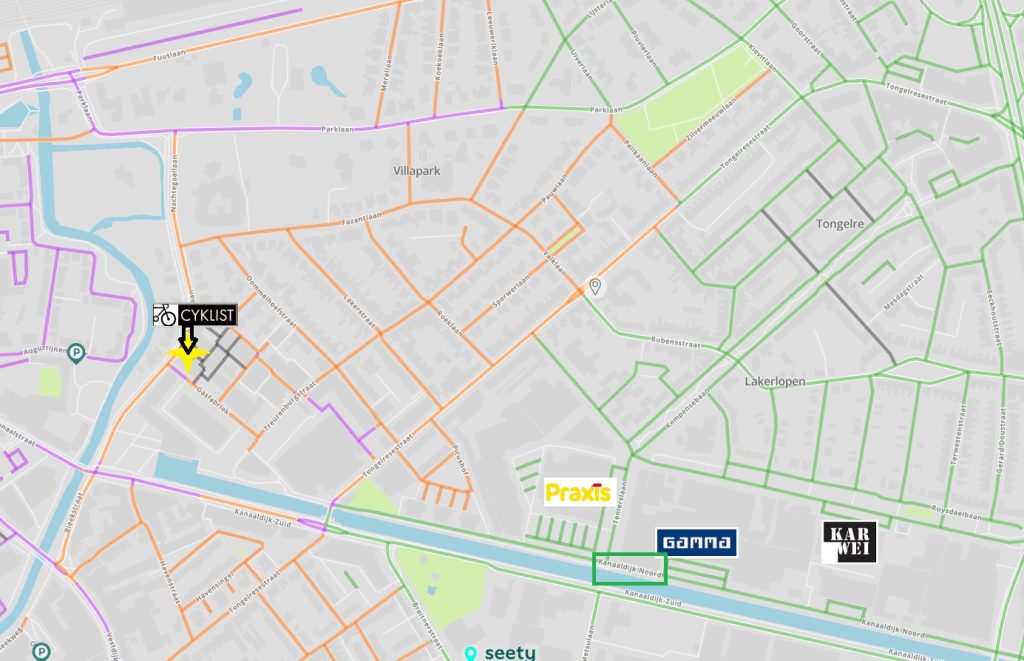 Long the Canal dike North you can park directly along the canal or at one of the larger parking lots along it. Park the car and within a few minutes you are walking or cycling cycling cafe De Cyklist. In the morning there is enough space.
Paid parking garages/areas
For those who prefer to park their car in a closed parking garage or on a closed parking lot
Parking garage Stadskantoor:- Wal/Stadhuisplein 5613 EM Eindhoven – € 5 per day – 4 minutes by bike
Parking garage Fellenoord : Pastor Petersstraat 170 5612 LW Eindhoven – € 7.50 per day – 5 minutes by bike
P+R Transferium Fuutlaan: – Fuutlaan 12 Eindhoven – € 7 per day – 150 places – 2 minutes by bike
Hooghuis parking garage: this garage is located about 350 meters from De Cyklist and has more than 400 parking spaces - € 16 per day - 3 minutes by bike
Parking garage Hill: this garage is located about 600 meters from De Cyklist and has more than 1000 parking spaces - € 14 per day - 2 minutes by bike
Parking garage Mathildelaan: this garage is located about 700 meters from De Cyklist and has more than 500 parking spaces - € 16 per day - 6 minutes by bike
Parking zones nearby
There are parking zones around Wielercafé De Cyklist with a parking fee of €2 – €2.99 per hour (see map below):